by
Rhonda Spivak
Azerbaijan, a country made up mostly of Shiite Muslims, with only 25,000 Jews, has some rather large and powerful neighbors-- Russia to the north and Iran to the south.
While many Muslim countries do not have diplomatic relations with Israel, Azerbaijan, despite pressure from neighboring Iran, has chosen to pursue a growing economic and strategic partnership with Israel.
"We are a Muslim country, but we are secular," Farid Shafiyev, Azerbaijan's Ambassador to Canada told the Winnipeg Jewish Reviewin a one on one interview while he was in Winnipeg last week.
"We have our own foreign policy. We think it is good to have good relations with the United States and Israel," Shafiyev said.
What fuels Azerbaijan's relationship with Israel? Oil, for one thing.
Azerbaijan, a democratic country which gained its independence from Russia 19 years ago, is situated along the Caspian sea, and supplies Israel with a lot of oil-about one sixth of Israel's supply.
As Shafiyev said, "Israel imports about $3.5 billion of goods, mostly oil, from Azerbaijan."
According to Shafiyev, the crude oil goes through the "Ceyhan pipeline, which is the longest pipeline in the world. It begins at an oilfield off the Caspian Sea in Azerbaijan and ends in Ceyhan, Turkey, a port on the Mediterranean Sea. From there it goes on by tanker [ship]to Israel. The design life of the pipeline is 40 years."
The 1,099 mile pipeline, which began operating in 2006, makes its way through the country of Georgia before arriving to Turkey.
"Many Israeli companies operate in the energy sector of Azerbaijan, Shafiyev noted. "For example, Modicom System Ltd, an Israeli based supplier of high technology to the energy industry, mainly in the oil and gas sector, opened an office in Azerbaijan in 2000."
Shafiyev added "We established diplomatic relations with Israel around 1993 and Israel opened an embassy in Azerbaijan in 1994.
"Bezeq, a major Israeli telephone subsidiary, was the first Israeli company to invest in Azerbaijan. Through a devalued contract bid in 1994, Bezeq bought a large share of the telephone operating system in Azerbaijan."
Additionally, Bakcell, the first cell phone operator in Azerbaijan, which started up in early 1994, was "a joint venture between Azerbaijan's ministry of communication and GTIB (Israel), Shafiyev said.
"There are Israelis doing business in Azerbaijan all the time," according to Shafiyev, who also noted that there is one Jewish member of the Azerbaijani parliament today.
In 1997, when Israeli Prime Minister Benjamin Netanyahu visited Baku [the capital of Azerbaijan], he met with Heydar Aliyev, the former President of Azerbaijan. The meeting, in addition to discussing new oil deals, "also solidified a strategic understanding and led to increased defence co-operation," according to Shafiyev.
When asked by the Winnipeg Jewish Review for more details about the defence co-operation, Shafiyev said," Israel and Azerbaijan have had some military co-operation for the last 10-15 years. We buy some military equipment from Israel, but I won't give you the details of what."
Iran's open hostility and hatred of Israel hasn't stopped Azerbaijan from strengthening its bilateral ties with Israel recently.
"As a result of developing economic relations, the first Israel-Azerbaijan business forum occurred in Tel-Aviv on May 2009,"Shefiyev reported.
"In June of 2009, Azerbaijan hosted Israeli President Shimon Peres. President Peres came with the Israeli Minister of Industry, Trade, and Labour, the Minister of National Infrastructure, the Minister of Science and Technology, as well as the director general of Israel's Ministry of Defence. The delegation also included 60 heads of leading Israeli companies in the fields of security, infrastructures, communications, health and agriculture. Several bilateral agreements between the two countries were signed," he added.
Regarding the Israeli-Palestinian conflict, Shafiyev said "[Azerbaijan] supports a two state solution, an independent Israel and Palestine living peacefully side by side."
Azerbaijan itself has been embroiled in its own conflict with Armenia. In 1991, the conflict escalated into war and Armenia occupied parts of Azerbaijani territory, causing mass population displacement of Armenians within the country.
According to a bulletin put out by the Embassy of Azerbaijan in Ottawa, "Israel supports the principle of Azerbaijan's territorial integrity in the resolution of the Armenian-Azerbaijan conflict."
The bulletin quotes Israeli President Shimon Peres as having said, "Despite the occupation you have managed to preserve your culture and optimism. I understand the problem of a million of refugees and IDP [internally displaced persons] in the country with a population of over 8 million people. This means that every eighth citizen of the country is a displaced person. But you cope with this problem with dignity."
Shafiyev, who grew up in Baku, and has a Masters Degree in Public administration from Harvard University Kennedy school of Government, as well as a law degree from Baku State University told the Winnipeg Jewish Review that "I had ten Jewish classmates in my high school, and my history teacher was Jewish. I have kept in touch with my classmates. One of them now lives in Haifa."
WHAT'S A MOUNTAIN JEW?
Shafiyev also told the Winnipeg Jewish Review about the existence of Mountain Jews in Azerbaijan (being a "Prairie Jew" I had never heard of Mountain Jews before).
The Jewish community of Azerbaijan can be divided into three main groups: the Ashkenazi / European Jews, Mountain Jews, and Georgian Jews
"The town of Krasnaya Sloboda, in my country is the only town in the world where Mountain Jews constitute a majority," Shafiyev said.
Mountain Jews speak their own dialect called Judeo-Tat and are believed by some to be descendents from the ten lost tribes who were exiled from Israel in 722 B.C.E and settled in the Caucasus Mountains. Others believe that the Mountain Jews immigrated from what is now Iran in the mid-eighteenth century and established the town of Krasnaya Sloboda, in the highlands of northern Azerbaijan. According to some, all-Jewish Krasnaya Sloboda once had a population of 18,000, but today, following World War II and emigration, only 4,000 remain.
According to Shafiyev, "The Jewish people have lived in Azerbaijan peacefully for centuries. The Jewish community of Azerbaijan goes back hundreds of years. We pride ourselves on a history of tolerance. Azerbaijani Jewry traces its roots back to the existence of Caucasian Albania, an ancient and early medieval kingdom that was in Azerbaijan. Many members of this community came to the Caucasus from other areas to escape persecution or violence."
Before coming under the yoke of the Soviet Union, Azerbaijan had a short lived independence from 1918 to1920.
"During that time, the Jewish community enjoyed the same rights as other ethnic groups. The Jewish Popular University was established in 1919. The Health Minister Dr. Yevsei Gindes was an Ashkenazi Jew," Shafiyev noted.
The European Ashkenazi community arrived in Baku in the early nineteenth century, after the annexation of Azerbaijan to Russia.
According to Shafiyev, the years when Azerbaijan fell under the Soviet Union were marked by many Azerbaijani-Jewish marriages.
But Baku, his city of origin, was the "first place where legal Hebrew courses in the Soviet Union were opened."
Shafiyev also made a point of saying that "Today, there is a [three-story] synagogue in Baku [which was opened on March 9, 2003] which is the largest synagogue in Europe."
At the time of its opening, Gennadiy Zelmanovich, Chairman of the Baku Religious Community of European Jews, said "Jews who live here [in Azerbaijan] have always felt very free, which shows that it's quite possible for Muslims, Jews and Christians to live together in peace. In other European countries, synagogues are being burned down because of anti-Semitism. But here in Azerbaijan, we are building up God's house..."
As Shafiyev said regarding the issue of anti-Semitism, "The report on Global Anti-Semitism released by the USA Bureau of Democracy, Human rights and Labour on Jan. 5, 2005, indicates that 'Cases of prejudice and discrimination against Jews in the country were very limited, and in the few instances of anti-Semitic activity, the government has been quick to respond."
During the early 1990's the Azerbaijan Jewish community numbered about 80,000 people. Notwithstanding that the Azerbaijan constitution grants religious freedom, many Jews have immigration to Israel, Russia, and Germany for economic reasons.
Before the interview concluded, Shafiyev noted that "The only Azerbaijani to ever have won the Nobel Peace prize was a Jew. His name was Lev Landau."
Born in Baku, Landau, a prominent Soviet physicist who made fundamental contributions to many areas of theoretical physics, received the prize in 1962.
Before his interview with the Winnipeg Jewish Review, Shafiyev spoke to a class of Gray Academy Students, and afterwards met with leadership from the Jewish Federation.
See this story in the Winnipeg Jewish ReviewSee the story here at Israel Behind the News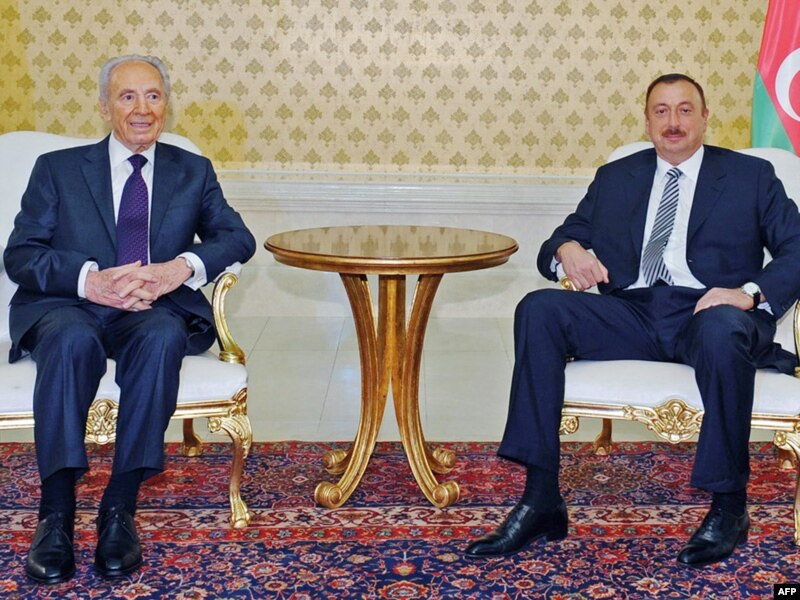 Azerbaijani President Ilham Aliyev (r) meets Israeli counterpart, Shimon Peres, in Baku on June 28, 2009 (RFE/RL)